Our externship program is an opportunity available 
exclusively to our graduates
 who have passed their certification exams. Externships allow you to choose from and work in one of our affiliated healthcare facilities to gain real-world experience and help your resume stand out from the rest.
What's an externship?
Externships are volunteer positions that provide our graduates with structured, supervised hands-on experience which helps them develop their manual and practical skills in their respective fields. Our externs are closely supervised by staff who take them through the daily routine at an affiliated medical facility, clinic, or hospital. The experience allows our externs to apply their classroom knowledge to the healthcare setting and familiarize themselves with the job. This program acts as a bridge between their formal education and professional careers. Students enrolled in Sterile Processing Tech, Electrocardiogram Tech, or Surgical Tech can enroll in our externship program for no extra cost after graduation & passing a board exam result. ERT externships are not available.
Am I qualified to apply for the externship program?
To qualify for our externship program, you must meet 2 conditions:
You enrolled in and passed a program at Altamont Healthcare
You passed the board exam.

NCCT – EKG Tech & Surgical Tech
CBSPD – SPD Tech & ERT
If you've met these conditions, you are qualified to apply for our externship program. Please note that externships are already included in the Sterile Processing Tech, Electrocardiogram, and Surgical Technologist program tuition. Externships are exclusive to Altamont Healthcare graduates.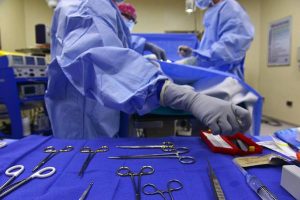 Do I get paid?
No, externs do not get paid. However, the accelerated experience provided by the externship meets the "one-year of experience" requirement by most employers. It also provides a technician with connections within the hospital for which they externed. Other benefits of the program include:
240-400 hours of real-world training & experience
Access to a wide network of hospitals across California
Potential job offers upon externship completion (depending on your performance & job openings)
An in-house Professionalism Workshop to sharpen your interview skills and improve your resumé
What advantages does it have?
Externships can lead to job opportunities and help graduates get their foot in the door for available job positions within the facility or hospital they are serving. It also connects them to the right people in their line of work and provides them the opportunity to showcase their personality, work ethics, and employability. In this sense, externships are also a source of establishing formal work connections and lays the groundwork to build your network of job-related contacts. If an extern displays their ability as an effective worker and is a positive addition to the work environment, they may be offered a paid position at that facility.
How long do externships last?
Anywhere from 240-400 hours depending on the coordinator of the hospital in which you are placed. Your availability and the availability of the facility will determine your weekly schedule and hours. The Surgical Tech externship requires 155 procedures for completion.
How do I qualify?
Only graduates of Altamont Healthcare's certification programs can participate in our Externship Program. You must pass your board exam to be eligible for this program. Students that enroll in our Sterile Processing Tech, Electrocardiogram Tech, or Surgical Technologist program will receive an externship at no extra cost.
Robert Glenn Campbell, Esq.
School Administrator and Legal Officer/ Co-Owner Robert is a lawyer by profession for 13 years and owns his legal practice in two locations: Stockton, CA and Santa Clara, CA. He loves empowering the students and assisting them in developing their career in healthcare It is his vision to create a community of employable professionals in our local area. Robert is a graduate of Ateneo de Manila, Philippines and holds a Juris Doctor or J.D.
---
Kathy Escobedo
Kathy is an attentive, compassionate, and caring instructor with years of teaching experience under her belt. She is educated with Kaplan College as a Medical Assistant in 2000 and has acquired her clinical skills working for hospitals and clinics in various settings for 14 years before starting a career in education. She brings experience, practical sense, calmness and professionalism to the classroom everyday with her gracious smile and firm guidance.
---
Liana Dizon
Externship Advisor Liana brings 17 years of experience in the medical field to Altamont Healthcare. She rose from the ranks as a physical therapy aide to assistant manager while she was employed at a local doctor's office. Her work there gave her extensive exposure in a variety of situations, such as managing interpersonal relationships in the workplace, student onboarding, medical assistant training, externship issues, documentation, billing and reporting responsibilities. Her role as Externship Advisor enables her to use her skills effectively to place externs in hospitals for training and guide them towards a successful work experience. Liana enjoys her free time hiking, cooking, and spending time with her family.
Education
: Therapy Health Technician Certification – Andon College, Stockton, CA
---
Zeshan Khan, MD
EKG Instructor/ EKG Externship Adviser Ze, as he is called, loves to teach and thus, has been an instructor for the last 3 years. His advanced medical training and knowledge is beneficial to the classes he teaches, reflecting on the degree of learning in his students. In his free time he loves reading books and spending time with his family.
Education
: Doctor's Degree in Medicine – Avalon University School of Medicine, 2015 BA in Health Administration (in progress) – American Intercontinental University Medical Assisting, EKG and Phlebotomy Diplomas – Regional Occupational Program, Stockton, CA, 2004
---
Krystal King
Student Relations Specialist Krystal is an alumnus of Altamont Healthcare in the pioneering batch of the first Sterile Processing Technician course in Stockton. She graduated at the top of her class and became board-certified right afterwards. She briefly taught the certification class with Cherish before she was hired at Dameron Hospital and proceeded to work at Lodi Outpatient Surgery Center as a Certified Sterile Processing Tech for a combination of six years. Krystal's work experience also includes medical and legal receptionist. Krystal's primary duty as Student Relations Specialist is to assist students in their career goals and guide them to make the right decisions in picking the right career that the school can offer. In her spare time, she loves to spend time with her son and husband. She also loves spin cycling class and enjoys creative meals for her family to enjoy. One day she hopes to travel to Bora Bora.
Education
: Dental Assisting Certification – Lincoln Technical Academy, Lodi CA, 2018 Sterile Processing Certification – Altamont Healthcare, Stockton, CA, 2012 Certified Sterile Processing Tech – CBSPD, 2012
---
Khristiane Cruz, MD
Sterile Processing Instructor/ Operations Khristiane joined Altamont Healthcare in 2018. He is Board Certified in Sterile Processing & Endoscopic Reprocessing. When not instructing he assists in office operations. Khristiane also holds a Bachelors of Science Degree in Biology and a Medical Degree in Medicine. His passion to teach and dedication to his students is what makes him remarkable as an instructor.
Education
: BA in Biology, Far Eastern University, Philippines, 1999 Doctor of Medicine, Far Eastern University, Philippines, 2004 Board-certified in Sterile Processing Tech, CBSPD, 2018 Board-certified in Endoscope Reprocessing Tech, CBSPD, 2019
Course Prerequisites:
Be at least 18 years or older at the time of enrollment
Have a valid government-issued photo ID
Have at least a high-school diploma or GED.
Documents needed on or before the workshop:
Resume
Certificate of Completion from Altamont Healthcare
NCCT/SPD Board Certificate or PSI results
Documents needed before being considered for placement:
Proof of Health Insurance/Medical Coverage
BLS/CPR Card
Completed Immunizations:

MMR (Rubeola/Measles, Mumps, Rubella/German Measles titer or 2 doses of immunization)
Varicella (Chicken Pox titer or immunization)
Hepatitis B – 3 doses or completed declination form
TDAP (Tetanus, Diphtheria, Pertussis), valid for 10 years only
Flu shot for the current season or completed declination form

TB Test (Dignity Hospitals: 2 ppd, 1 ppd and xray if positive, or Quantiferon Gold)
Must complete externship workshop
Documents needed once assigned to a hospital
Full Background Check (student expense)
Urine Drug Testing, 10 drug panel (student expense)
Note: Depending on the facility, there may be additional requirements.