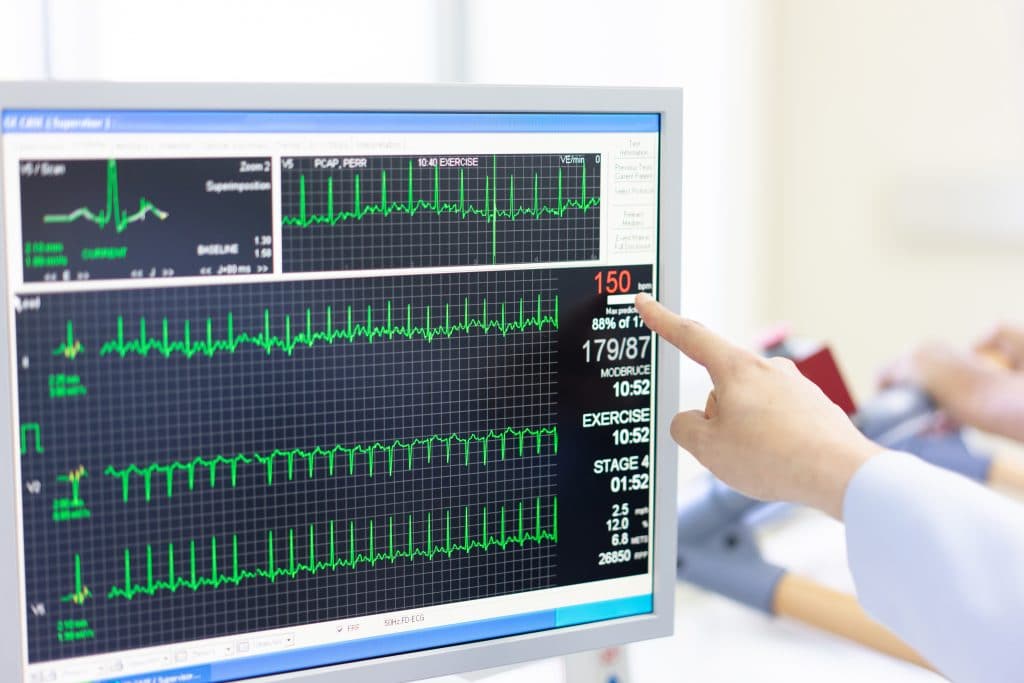 EKG Technicians operate and read electrocardiogram machines while performing various tests on patients. The results help cardiologists make accurate diagnoses.
Cost of Enrollment: $610
Cost of Tuition & Externship: $3,000 (subject to discount)
Total Cost of Program: $3,610
What is an EKG Technician & What do they do?
An electrocardiogram, shortened to EKG or ECG, is a test that detects problems with the electrical activity of the heart through the use of a specialized machine. EKG technicians conduct tests alongside a cardiologist in order to detect diseases, disorders, and other problems associated with the heart. They are responsible for preparing the patient for testing by attaching electrodes to appropriate points on the patient's chest, operating the EKG machine correctly, conducting Holter monitoring and stress testing, and providing accurate results to the cardiologist for further examination.
Getting certified as an EKG Technician provides the opportunity to work in a team-oriented environment with excellent benefits, job stability, and opportunities for career advancement. EKG Techs should expect to make $40,000 to $50,000 per year.
Program Features
Our certification program offers a host of student benefits, including:
Comprehensive hands-on training to improve your real-world performance – each class is provided with an EKG machine so you can perfect your techniques before even entering a hospital.
Small class size, with a limit of just 9 students per class.
Free BLS/CPR certification.
In-house career-building workshops.
Set of scrubs (uniform).
Affordable tuition and flexible payment options put this course in reach for all students, regardless of socioeconomic status.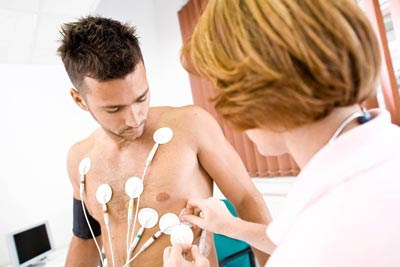 Eligibility Requirements
Students must be at least 18 years old, have a high school diploma or GED, and provide a valid government-issued photo ID. While anatomy and physiology knowledge is helpful, it's not required for enrollment.
Our EKG tech program is recognized by the National Center for Competency Testing and course-accredited through NCCA. Contact us today to register for your EKG certification training program.
Flexible Tuition Payments
We acknowledge that the financial cost of higher education is a barrier for potential students, that's why we are committed to assisting students at all socioeconomic levels who want to enroll. We are proud to provide one of the nation's most affordable tuition rates among EKG certification programs. We offer several different payment plans and discounts that can be found here. If none of our payment plans seem within your reach, we would be happy to talk with you and figure out a plan that works for you.
EKG Tech program graduates may take the NCCT board exam at an Altamont Healthcare location.
Starting September 7, 2021, Graduates are entitled to 1 free test. All attempts after the first are subject to a sitting fee. Students that reschedule or cancel their test may be charged a sitting fee.
Outside students may take their ECG Technician, Tech in Surgery (Surgical Technologist), or Medical Office Assistant (MOA) tests with Altamont Healthcare for a $20 fee.
All Altamont Healthcare graduates are eligible for our externship program upon certification. Externships are included in the Surgical Technologist program.
NOTE: The schedule & length of your externship are negotiated between you and your contracted hospital. Externships last 240-400 hours.
Fall 2022 EKG Tech Schedules
We are offering 3 EKG classes during Fall 2022:
Day Class: Tuesday-Friday
Night Class: Tuesday-Friday
Weekend Class: Friday & Saturday
Weekend Class Details:
Starts Sept. 02, 2022
Ends: Oct. 28, 2022
Orientation: Aug. 26, 2022 at 10 am

1st Payment: Sept. 02, 2022
2nd Payment: Sept 23, 2022
3rd Payment: Oct. 15, 2022
Night Class Details:
Starts Aug. 1, 2022
Ends Sept. 15, 2022
Orientation: July 25, 2022 at 5:30 pm

1st Payment: Aug. 1, 2022
2nd Payment: Aug 16, 2022
3rd Payment: Sept 6, 2022
Day Class Details:
Starts: July 26, 2022
Ends Sept. 06, 2022
Orientation: July 19, 2022 at 1pm

1st Payment: July 26, 2022
2nd Payment: Aug 9, 2022
3rd Payment: Aug 26, 2022
Summer 2022 EKG Tech Schedule
We are offering 3 EKG classes during Summer 2022:
Day Class: Tuesday-Friday
Night Class: Tuesday-Friday
Weekend Class: Friday & Saturday
Day Class Details:
Start: May 10, 2022
End: June 21, 2022
Tuesday through Friday from 1 PM to 5 PM
16 hrs/week for 6 weeks (8 calendar weeks with holidays)
Orientation Date: Tuesday, May 3, 2022, at 1 PM
Payment Due Dates:

1st – May 10, 2022
2nd – May 31, 2022
3rd – Jun. 10, 2022
Night Class Details:
Start: May 16, 2022
End: June 30, 2022
Mondays, Tuesdays, and Thursdays from 5:30 PM to 10:30 PM
15 hrs/week for 7 weeks
Orientation Date: Monday, May 9, 2022, at 5:30 PM
Payment Due Dates:

1st – May 16, 2022
2nd – Jun. 2, 2022
3rd – Jun. 20, 2022
Weekend Class Details:
Start: June 10, 2022
End: July 30, 2022
Friday from 8 AM to 1 PM; Saturday from 8 AM to 5 PM
13 hrs/week for 7 weeks
Orientation Date: Friday, June 3, 2022, at 1 PM
Payment Due Dates:

1st – Jun. 10, 2022
2nd – Jul. 1, 2022
3rd – Jul. 22, 2022
Take advantage of our easy payment plans! We are committed to partnering up with you and helping you reach your goal of having a dependable and rewarding life-long healthcare career in the field of sterile processing.
If none of our plans work for you, we'd be happy to create a custom payment plan with you. If a special payment plan interests you, please call our office during operating hours or send us a message here.
Costs
Refund Policy
TOTAL FEES AND CHARGES
$3,002.00
Registration Fee
$250.00
Non-refundable
Book
$125.00
Subject to change; non-refundable when already ordered
Materials and Lab Fee
$225.00
Non-refundable upon removal from packaging.
Tuition + Externship
Passing the certification exam is a requirement for enrollment in externship.
$3,000.00
Refundable subject to Rules and Procedure below
Student Tuition Recovery Fund Fee
$10.00
Non-Refundable; $0.50 for every $1,000 rounded to the nearest $1,000
ESTIMATED DUE FOR THE ENTIRE PROGRAM
$3,610.00*
TOTAL CHARGES FOR CURRENT PERIOD OF ATTENDANCE
$3,610.00*
CHARGES DUE UPON ENROLLMENT
$610.00*
*YOU ARE RESPONSIBLE FOR THIS AMOUNT. IF YOU GET A STUDENT LOAN, YOU ARE RESPONSIBLE FOR REPAYING THE LOAN AMOUNT PLUS ANY INTEREST, LESS THE AMOUNT OF ANY REFUND.
All payment plans below do not include registration and book fee. The payment plans are based on the tuition rate of $2,400.00
Option #1: Full payment entitles students to 10% discount on tuition payment. ($2,160.00)
Option #2: Make one third of the payment ($800.00) and the remaining amount entitles the student to a 5% discount on the remaining tuition. ($1,520.00)
Option #3: Tuition is paid in three equal terms of $800.00 per installment.
*All payments made after the designated due date will be charged a late payment fee of $20.00 regardless of balance.
Payment shall be made by cashier's check, money order, or credit/debit card.
We accept Visa, MasterCard, American Express, Discover & Paypal

Altamont Healthcare is a cashless business.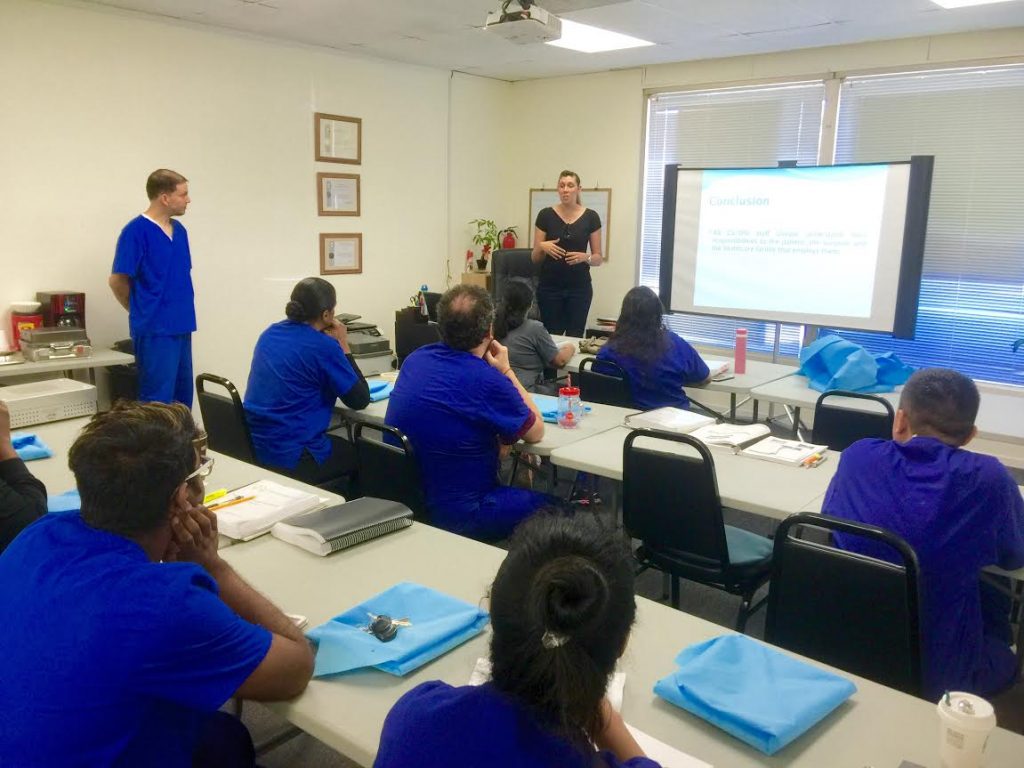 Course Prerequisites:
Be at least 18 years or older at the time of enrollment
Have a valid government-issued photo ID
Have at least a high-school diploma or GED.
Altamont Healthcare aims to make enrollment and financing as easy as possible. With simple prerequisites and flexible payment options, we offer simplicity and affordability when it comes to getting your education.
To apply for our programs, you can submit an application online here. To reserve a spot in the class, you must complete the application and pay the application fee of $250 (non-refundable). Once your application has been accepted, you will be emailed your student portal login.
If you do not pay the $250 application fee, we will not process your application.
Once you receive the login credentials, you may access the student portal and complete the enrollment documents that were sent to your account. Once your enrollment is complete, you will receive a link to the course registration page.
After you've registered for your class(es), you will see the course fees and tuition charges appear in your account.
Our Surgical Technologist program requires that applicants pass an interview with Admissions Staff.
See our Prerequisites and Tuition and Financial Options pages for more information on pricing and payment plans.
Can't find what you were looking for? Here are some helpful links.